Radio Producer is highly needed.
February 5, 2018
Application deadline

2018-02-18

Business / Employer name

WELL TOLD STORY (T) LIMITED

Job categories

Job Role

Experienced

Position Type

Full Time

Organization Type

Private Sector
Kinondoni, Msasani 
Dar Es Salaam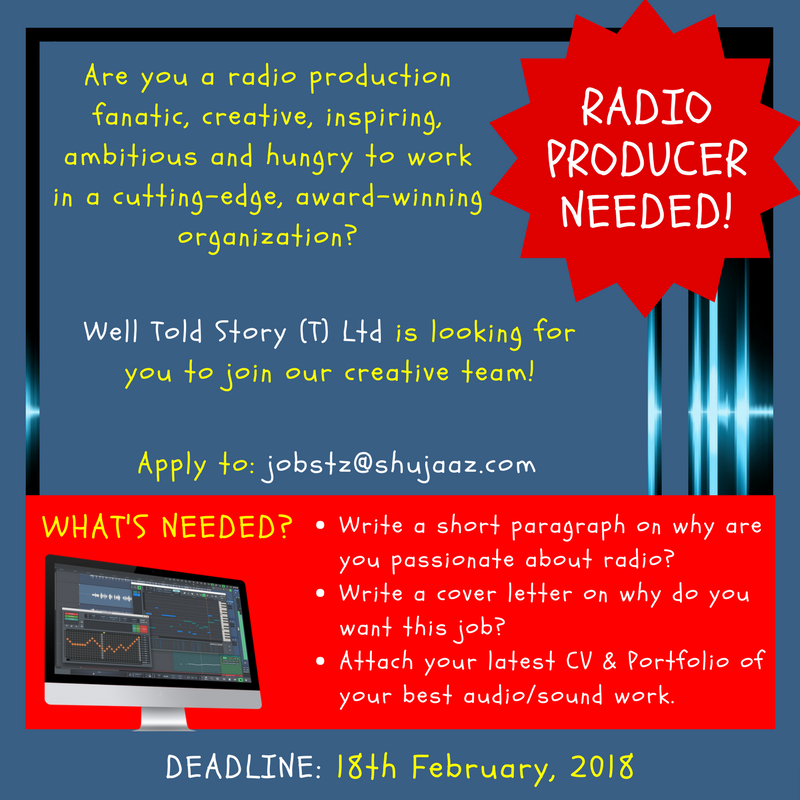 ABOUT THE COMPANY
Well Told Story Group creates the 2x Emmy Award-winning multi-media communications platform known as Shujaaz, using rigorous research and user-centred design to inspire and motivate millions of young Tanzanians and Kenyans to take action to improve their lives and engage with urgent issues that shape their future.
Our mission is to create measurable social and economic value for youth in East Africa. To do this we direct our research and our media on the big challenges, ideas and issues that are critical to the future wellbeing of East Africa's all-important yet hardest to reach youth demographic.
Are you creative, inspiring, ambitious & hungry to work in a cutting-edge, award-winning organization? Well Told Story (T) Ltd is looking for you!
The Radio Producer is a key position within the creative team. You will be responsible for the end to end production of a new radio show to improve health outcomes among 15 to 24 in Tanzania.
Key Responsibilities:
 In partnership with the WTS team, defining the content of the radio show. Developing content and, writing material for scripts and links.
 Sourcing potential contributors and interviewees.
 Location and studio recording.
 Selecting sfx & music appropriate to the brand & the audience.
 Managing logistics, equipment & media contributors.
 Managing presenters for recorded output.
 Mixing and editing the shows.
 Scheduling recordings and ensuring the tight delivery deadlines are met.
 Delivering the final shows to partner stations on time and in an appropriate format.
 Building and maintaining relationships with our partner stations across Tanzania.
 Ensuring the radio show continues to be the hottest show on air!
 Any other duties assigned to you by your supervisor.
Key Skills:
 Technical:
Self confidence and experience in audio editing and mixing through Adobe Audition or other related software.

Ability to carry out field recordings.

Experience in conducting studio recordings.

An aptitude for learning new technology will be beneficial.
 Communication:
Confident in speaking and understanding youth language.

Fluent English and Swahili.
 Organization:
Be able to meet tight deadlines.
Additional skills:
We're looking for someone fantastic with:
 Excellent organisational skills.
 Ability to work quickly and effectively under pressure and to short deadlines.
 Ability to build effective relationships with partners, fans and actors.
 Flexibility in working hours: happy to work evenings/weekends/travel if necessary.
 Confidence in using social and digital media.
 An interest in youth issues & culture.
 A team player.
 Some experience in working on health related content would be an advantage.
Qualifications:
 Diploma or Degree in a media related field.
 A minimum of 3 years' experience working with sound/audio.
 Experience in developing radio show from end to end.